3/21 6-9p Spiraling Fire Polished Rope Lariat
Wouldn't this look good on you! Weave faceted fire polish beads and seed beads for the lariat

rope

. Create a tasseled and fringed focal using a colorful lampwork bead from Alicia Kelley.

A prerequisite for this class is the Mastering Beadwork book by Carol Cypher, and you must have a copy with you at class time. Many wonderful patterns are included in this book, and it must be purchased separately. Of course, we have this book in stock here at the store!
3/21 6-9pm Spiraling Fire Polished Rope Lariat - Chris Lowe
This is for the Class Instruction. Make sure to purchase the class kit also. <a href="http://store.bloominbeadsetc.com/classes-november-spiraling-fire-polished-rope-lariat"><b>Click here to view the available kit(s) for this class.</b></a> The kits are 20
$0.00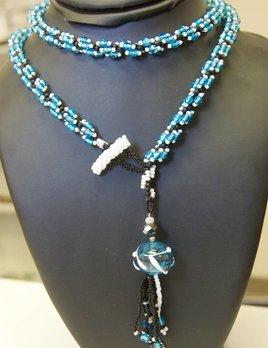 Spiraling Fire Polished Rope Lariat Class Kit

<!-- LightSpeed Web Store - Class Long Description for Class Kits Template - Version: 3/26/15 -->
This is for a Class Kit. Make sure to purchase the class instruction and any remaining kits you need if you would like to buy extra kits. <a href="http://st

$36.00

Powered by