Hours: Monday-Saturday: 11am-7pm
Sundays: 1pm-5pm
Amy Katz will be at Bloomin Beads the weekend of September 23-24 and it's going to be fabulous!
Join us on Saturday, the 23rd, for her "Out for A Swim" Bracelet or Earrings Class. You get the instructions for both for one instruction fee, then you can choose which one you want to work on during class. You may buy the materials kit for one or both projects. These little fish are so fun with an elegant twist. You just have to make some for yourself!

Come back on Sunday, the 24th, to learn to make Amy's Long Pendant Necklace. It starts with a sparkling Druzy, which you'll choose from Amy's collection, and gets better from there! It's an absolutely gorgeous finish to any outfit, whether you're dressed up or dressed just to run around town.

Amy is so fun and we know that you'll enjoy this weekend as much as we will so reserve your spot today!
Click the "Classes" link for more info and to register.

Students who can't join us in person can participate remotely, call the store to learn more!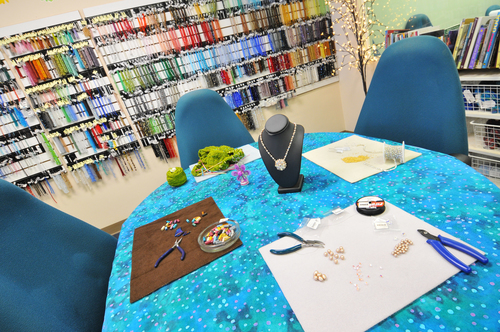 Take a Virtual Tour of the store!
SpotOn
SpotOn is our loyalty program. If you haven't already, you can get a SpotOn card next time you visit the store, then you'll begin earning Spots on all purchases (one spot for every $20 you spend. Exclusions apply- see store for details). You also get a Spot just for checking in using your SpotOn card every time you come into the store. Spots add up to get you discounts and gift card so you definitely want to collect them! Mondays are Double Spot Mondays so you earn twice as many Spots on all purchases!
Every time you check in using Spot On in our store, we'll donate 25 cents to Living Water International, a non profit organization that builds wells in impoverished communities. We're hoping to raise enough money to build a well!

From Living Water's Website:
"663 million people lack access to an improved source of drinking water—that's 1 in 9 of us. In the places we work, it's more like 1 in 2. Great progress is being made globally, but whole people groups are being overlooked—it's the poorest people with the least political power that continue to suffer, and these are the people we are called to serve."

Check out their website to learn more about this incredible organization.

Just by checking at BBE, you can help change lives and communities in places where it's needed most! How cool is that?!
Weekly Sale: Sept 17-23:
Ready MadeJewelry
Powered by